here is a good statistics with tables:
http://history.amedd.army.mil/booksd...chapter2.1.htm
(shall I post the whole article here ?)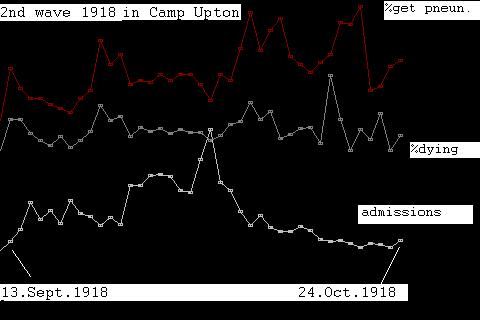 when you reported sick on a day with many other reports, then you were
less likely to develope pneumonia and die.
This is explained however by admission from several
organizations of the camp seriatim and they were hit differently hard.
Still to me it seems to show that organizations with more cases have fewer
fatalities (?!?)
correlation coefficients are:
corr=-0.46 #admissions - %who get pneumonia
corr=-0.20 #admissions - % who die
corr=+0.38 %who get pneumonia - % who die
I ran 100000 Monte Carlo tries for the first corr. and only 1/700 of them showed a smaller corr.