Rapid risk assessment: human infection with avian influenza A(H5N1) virus, Egypt, 23 December 2014
23 Dec 2014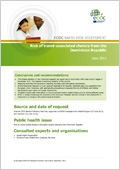 Available as PDF in the following languages
EN

This document is free of charge.


Abstract
According to a WHO update published on 4 December 2014, eight new human cases of influenza A(H5N1) have been reported in Egypt, with onset of disease in November 2014, bringing the total for 2014 to 12.

Influenza A(H5N1) has been circulating in domestic poultry in Egypt since 2006 and has been the source of sporadic human infections.

As the affected regions are non-touristic areas, the risk for EU citizens is considered extremely low.
ECDC