Hospitals on alert after superbug outbreak in Tuscany
...
12 September 2019
15:49 CEST+02:00
Authorities in Tuscany, home to some of Italy's most visited tourist attractions, have stepped up hospital controls after a deadly outbreak of the New Delhi superbug.
The antibiotic-resistant killer has shown "significant diffusion in the northwestern area of Tuscany" since November 2018, infecting at least 75 people, local health authority ARS said.
The bacterial disease is believed to have killed at least 31 people in 17 different hospitals since then, Italian media reported Thursday.
More than 31 cases were reported in Pisa, home to the famous leaning tower.
...
https://www.thelocal.it/20190912/hos...eak-in-tuscany
-------------------------------------------------------------------------------------------------
Translation Google
Diffusion of NDM enterobacteria in Tuscany
---
11/9/2019


UPDATE 11 SEPTEMBER 2019



1. What is NDM

NDM stands for New Delhi Metallo beta-lactamase , an enzyme produced by bacteria in the intestine, capable of destroying many types of antibiotics. The drugs that are rendered ineffective include carbapenems, class of antibiotics used for serious infections. The name derives from the first identification, in 2008, of this protein in a Swedish citizen who had previously been hospitalized in India, in New Delhi. The NDM represents a new mechanism of antibiotic resistance, developed by bacteria normally present in the human intestinal flora that can become virulent following prolonged exposure to certain antibiotics. The ability to resist antibiotics therefore makes these bacteria dangerous, especially in fragile patients, already affected by serious pathologies or immunosuppressed.




2. The Tuscany case



Until a few months ago in Italy the presence of NDM bacteria had been reported only sporadically. From November 2018 one was observedsignificant diffusion in the north-western area of ​​Tuscany , which was the subject of an ECDC (European Center for Disease Prevention and Control) release. In Tuscany the NDM-producing bacteria have been identified in the blood of patients admitted with serious pathologies and confirmed by molecular tests. The spread of NDM bacteria has affected many hospitals: in most cases it was colonization, but there have also been cases of serious infections in already compromised patients. Between November 2018 and August 31, 2019 the NDM bacteria were isolated in the blood of 75 patients .

NDM cases in Tuscany, November 2018-August 2019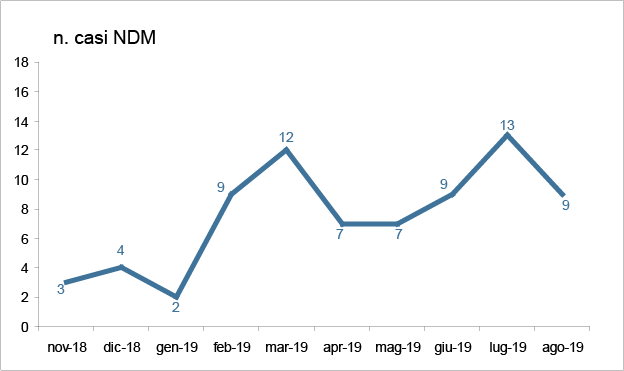 Consult thetable of cases NDM Hospital, November 2018-August 2019

The cases were lethal in 40% of patients with sepsis , a percentage comparable to lethality for this condition caused by other bacteria resistant to carbapenem antibiotics.




3. What was done in Tuscany



Since the first reports between March and April of 2019, the topic has been addressed by the PNCAR regional table (National anti-microbial-resistance plan) and the Coordination of Health Directors, asking to alert the infection control and prevention system in each hospital supervision and establishing a continuous feedback system between companies and the Region. In addition, contact was initiated with the Ministry, which led to the issuance of the Ministerial Circular of May 30, 2019, addressed to hospitals and various regions, to implement all the necessary precautions that in Tuscany were already active since the first cases.

The Department of Health established a crisis unit in May 2019 that produced adocument of regional indications for contrasting the spread of NDM bacteria. The Tuscan Health Authorities have implemented all the interventions aimed at monitoring the evolution of the phenomenon through active screening, reinforcing the procedures for the prevention and control of infections in health facilities and at adopting more adequate therapeutic schemes for the treatment of bacterial infections. NDM.

These interventions are aimed at controlling the spread of the phenomenon to other areas of the Region. Of particular importance for infection prevention and control policies is active surveillance of colonizations in patients admitted to hospitals . The active research of NDM bacteria concerns patients admitted to specific departments(intensive and sub-intensive therapies, oncology, onco-hematology, transplantation, cardiac surgery, infectious diseases, medical area, rehabilitation) or patients presenting risk characteristics admitted to other departments. This monitoring, up to August 31, led to the identification of 708 patients admitted with the bacterial strain : containment hygienic measures were applied to these patients.

ARS, which participates in the crisis unit, is engaged in the continuous monitoring of the phenomenon in close collaboration with the department and health companies of Tuscany.

https://www.ars.toscana.it/2-articol...n-toscana.html