Translation Google
Hospital Dos de Mayo clarifies causes of death of patient with monkeypox
This Monday the first case of death in Peru of a person with Monkeypox was detected, a disease that has been detected in 305 people in the country .
RPP Drafting
August 01, 2022 10:00 PM
Updated on August 01, 2022 11:03 PM
The Dos de Mayo hospital published a statement on Monday to indicate that the causes of the death of the person with Monkeypox were due to respiratory failure, respiratory failure, acute renal failure as well as septic shock.
According to the institution, the patient had a history of HIV infection and TB, in addition to abandoning antiretroviral treatment.
"A 41-year-old patient was admitted as an emergency presenting with respiratory distress and skin lesions with a history of HIV infection and TB , with antiretroviral treatment abandoned. These lesions were compatible with the signs of monkeypox (Simica) being confirmed diagnosis with the National Institute of Health," reads the statement from the Dos de Mayo hospital.
The institution pointed out that at all times they tried to save the patient's life and for this reason he was transferred to the Intensive Care Unit.
"The patient was hospitalized in the Intensive Care Unit, where despite the efforts made by our specialists to save his life, death occurred, the cause of death being: respiratory failure, acute renal failure, as well as septic shock. It is important to mention that patients with comorbidities such as HIV or TB who abandon their treatment for various reasons may develop severe infections," the hospital directive specified.
The Minsa confirmed that there are 305 confirmed cases of monkeypox in Peru. The patients are spread over nine regions: Lima, Callao, Ica, La Libertad, Tacna, Loreto, Piura, Cusco and Junín.
...
https://rpp.pe/lima/actualidad/hospi...oticia-1421810
------------------------------------------------------
Ministry of Health
@Minsa_Peru
·
🔴
The Ministry of Health reports that confirmed cases of #MonkeyViruelaDelMono increased to 313, corresponding to 9 regions of Peru, all patients have been receiving medical assistance, 99 medical discharges were registered and contact identification is being carried out.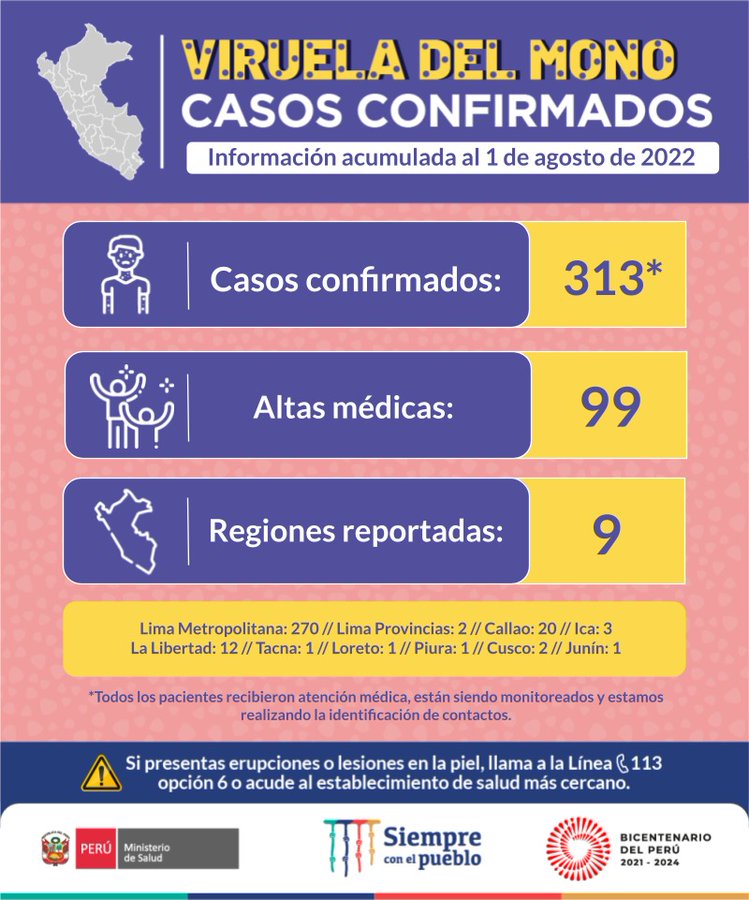 9:10 PM · Aug 1, 2022
·
Twitter for Android
-------------------------------------------------------------------------------
Hospital Nacional Dos de Mayo
@H2deMayo
🔴COMUNICADO N°004-2022-OC-DG/HNDM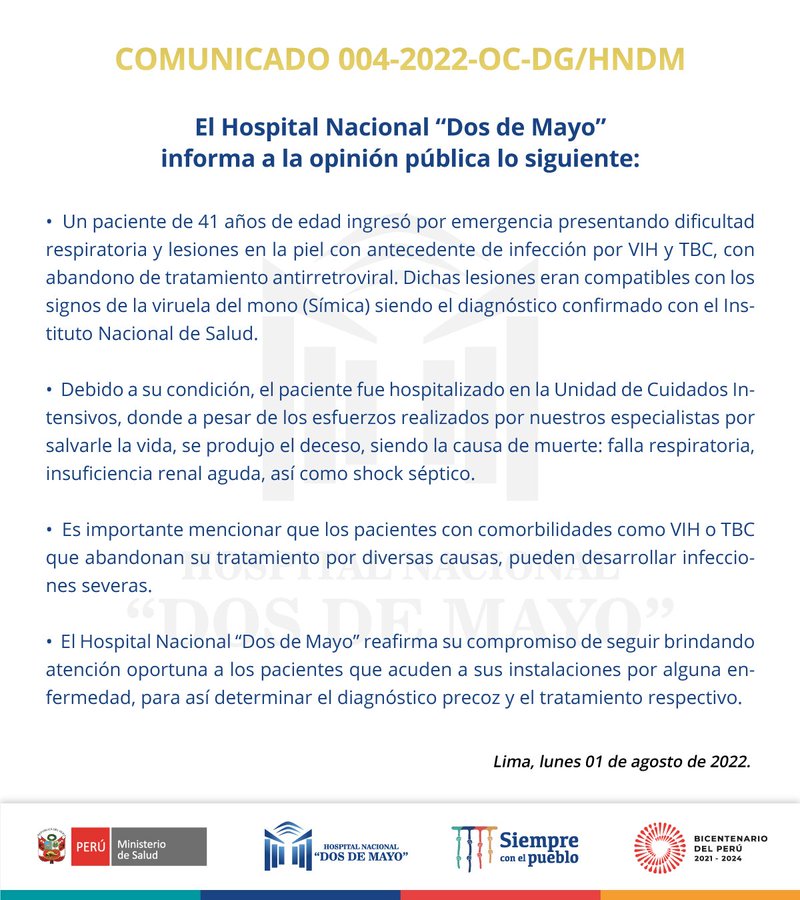 8:21 PM · Aug 1, 2022
·
Twitter Web App