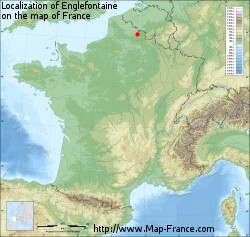 http://www.map-france.com/Englefontaine-59530/
Translation Google
Coronavirus: In Englefontaine, the village of the patient, the inhabitants are far from panicking
Published on 11/05/2013
By La Voix du Nord
The news has not been a bombshell. Yesterday morning, the inhabitants of Englefontaine community, about thirty miles from Valenciennes, found out that the first case of coronavirus lived nearby. Nothing to panic about. It just created a few comments and questions.
...
More surprised than anxious
"I was taken aback, confirms the mayor, Michel Manesse, recalling the phone call from the sub-prefect, Wednesday. It is a village of 1340 inhabitants, who would have thought they would talk about us that way? "Portable in hand, the elected filters calls and waits for instructions from the Regional Health Agency, to know how to proceed. "Do not be alarmed, as there are no other cases in the municipality. And since the incubation period has passed, at priory, there will be none. We remain on alert and wait to see the evolution to know if we have to inform the population. But in the meantime, we will not put people into quarantine! "
However, the mayor promotes alertness and appealed to relay on the ground: doctors, police, municipal employees ... "It fell on us, , we can just be reactive. "
CECILE Debachy
http://www.lavoixdunord.fr/region/co...ia23b0n1241469