https://www.cidrap.umn.edu/news-briefs

MRI study reveals fetal, placental anomalies in pregnant COVID patients
News brief
Today at 3:25 p.m.
Mary Van Beusekom, MS
Topics
COVID-19
A
study
of 38 COVID-infected pregnant women who underwent magnetic resonance imaging (MRI) in Austria found an elevated rate of fetal and placental abnormalities.
In the study, published late last week in
The Lancet Regional Health
, Medical University of Vienna researchers examined fetal and placental development in 38 pregnant women who tested positive for SARS-CoV-2 and 38 matched, uninfected pregnant women from July 2020 to July 2022. MRIs were performed 83 days, on average, after a positive test.
Twenty-one infections were caused by pre-Omicron SARS-CoV-2 variants (ie, wild-type, Alpha, or Delta), and 18 were Omicron infections. The women were 19 to 36 weeks' pregnant (average, 28 weeks) at MRI.
More lobular, thickened placentas
Globular, or jelly-like, placentas were observed in 30% of women infected pre-Omicron and 27.8% in the Omicron group, while controls had none. Globular placentas can carry a risk of intrauterine growth restriction (UGR, or impeded fetal growth), pre-eclampsia (dangerously high blood pressure during pregnancy), and other abnormalities.
Women with pre-Omicron infections had more placental lobulation and hemorrhages than controls (65% vs 40% and 55% vs 10%, respectively), as well as more thickened placentas. UGR was seen in 25% of fetuses in the pre-Omicron group, and three fetuses had organ abnormalities.
The placentas of pregnant women who have been infected with SARS-CoV-2 should be examined as soon as possible after testing positive using prenatal imaging techniques.
Two unvaccinated, Omicron-infected participants (11%) developed placental abnormalities, compared with one of six triple-vaccinated women (17%).
Pregnancy outcome data were available from 79% of infected patients. One patient each developed pre-eclampsia after Omicron infection, delivered via caesarean at 36 weeks' gestation due to UGR after wild-type infection, and miscarried at 19 weeks due to UGR after Alpha infection. All three placentas had highly abnormal shapes, lobulations, and hemorrhages. All other fetuses were born at term.
"The placentas of pregnant women who have been infected with SARS-CoV-2 should be examined as soon as possible after testing positive using prenatal imaging techniques," coauthor Daniela Prayer, MD, said in a Medical University of Vienna
press release
.
Canadian wastewater polio isolates show US links; African countries report more cases
News brief
Today at 3:22 p.m.
Lisa Schnirring
Topics
Polio
Genetic analysis of two wastewater samples from Canada that were positive for vaccine-derived poliovirus type 2 (VDPV2) are linked to a cVDPV2 case from New York's Rockland County and to other environmental samples found in New York wastewater.
In a Jan 19 epidemiological
update
on polio, the Pan American Health Organization (PAHO) said the genetic testing on the two Canadian samples was conducted by the US Centers for Disease Control and Prevention (CDC).
Earlier this month, PAHO
detailed
the two positive environmental samples from Canada, which were collected in late August in areas closely linked to communities in New York where the viruses were found between May and December. Canada has not reported any human cases.
In 2022, similar environmental findings were reported from London and Jerusalem.
Five African nations report more cases
In other polio developments, five African countries reported more polio cases last week, according to the latest
update
from the Global Polio Eradication Initiative (GPEI). The cases were from Cameroon, Chad, the Democratic Republic of the Congo (DRC), Nigeria, and Somalia.
All of the countries reported more cVDPV2 cases, but the DRC also reported several more cVDPV1 cases. All were added to the country totals for 2022. The single new case that Cameroon reported marked its second case for 2022.
Trial begins for bacteriophage cocktail in cystic fibrosis patients
News brief
Today at 3:19 p.m.
Chris Dall, MA
Topics
Antimicrobial Stewardship
Adaptive Phage Therapeutics (APT) recently
announced
that the first patient in an early-stage clinical trial for its investigative bacteriophage therapy has been dosed.
The National Institutes of Health–supported trial is evaluating the experimental bacteriophage cocktail WRAIR-PM-CF1 in cystic fibrosis (CF) patients. The cocktail contains four bacteriophages (viruses that kill or neutralize bacteria) that target
Pseudomonas aeruginosa
, a multidrug-resistant bacterium that colonizes the lungs of CF patients and is the most common cause of CF exacerbations.
The phase 1b/2 trial, which is being conducted by the Antibacterial Resistance Leaders Group, aims to enroll 72 CF patients, who will receive a single infusion of the cocktail at three dosage levels. The trial aims to determine whether the treatment is safe and if it reduces the amount of bacteria in trial volunteers, with investigators gathering data on safety and microbiologic activity, how the phages function in the body, how the therapy affects patients' lung function, and its impact on overall quality of life.
WRAIR-PM-CF1 was developed by the Walter Reed Army Institute of Research and is licensed to and manufactured by APT.
Avian flu strikes more poultry in 6 states as virus found in dead seals in Russia
News brief
Today at 3:17 p.m.
Lisa Schnirring
Topics
Avian Influenza (Bird Flu)
In
updates
posted over the last few days, the US Department of Agriculture (USDA) Animal and Plant Health Inspection Service (APHIS) has reported more highly pathogenic avian influenza outbreaks in poultry in six states, including at a large broiler farm in Tennessee.
The outbreak in Tennessee occurred in Weakley County, which since the middle of December has reported five outbreaks at commercial farms. The latest outbreak struck a facility that houses nearly 269,000 birds. In another commercial farm development, the virus struck a turkey farm in Virginia's Rockingham County that has 25,300 birds.
Elsewhere, more detections in backyard birds were reported from California, Ohio, Texas, and Washington.
Since the H5N1 outbreaks began in US poultry in February 2022, poultry losses have reached a record 58.16 million.
Avian flu in Russian seal die-off
In a new development regarding avian flu detections in mammals, scientists from Russia's Dagestan State University announced that tests have detected avian influenza in seals that were involved in a mass mortality event in December on the Caspian Sea coast near Dagestan, according to a statement translated and posted by
Avian Flu Diary
, an infectious disease news blog.
The statement didn't note the avian influenza subtype or say the virus caused the deaths. However, scientists note that there was a highly pathogenic H5N1 avian influenza last summer in wild birds on a nearby island where the seals live.
Since the outbreaks in poultry began, the Eurasian H5N1 clade impacting wild birds and poultry have infected several mammal species, raising concerns that the virus may more easily infect humans. So far, seven human cases have been reported, some mild, but some severe or fatal.
Bangladesh probes Nipah deaths, links to raw date juice
News brief
Today at 3:11 p.m.
Lisa Schnirring
Topics
Nipah
Health officials in Bangladesh have reported two fatal Nipah virus cases in kids, one of which may be linked to consuming date juice, according to a report from the Daily Star, an English language newspaper based in Bangladesh.
A hospital official said a 7-year-old boy from Pabna died yesterday, a few days after he became ill after consuming date juice.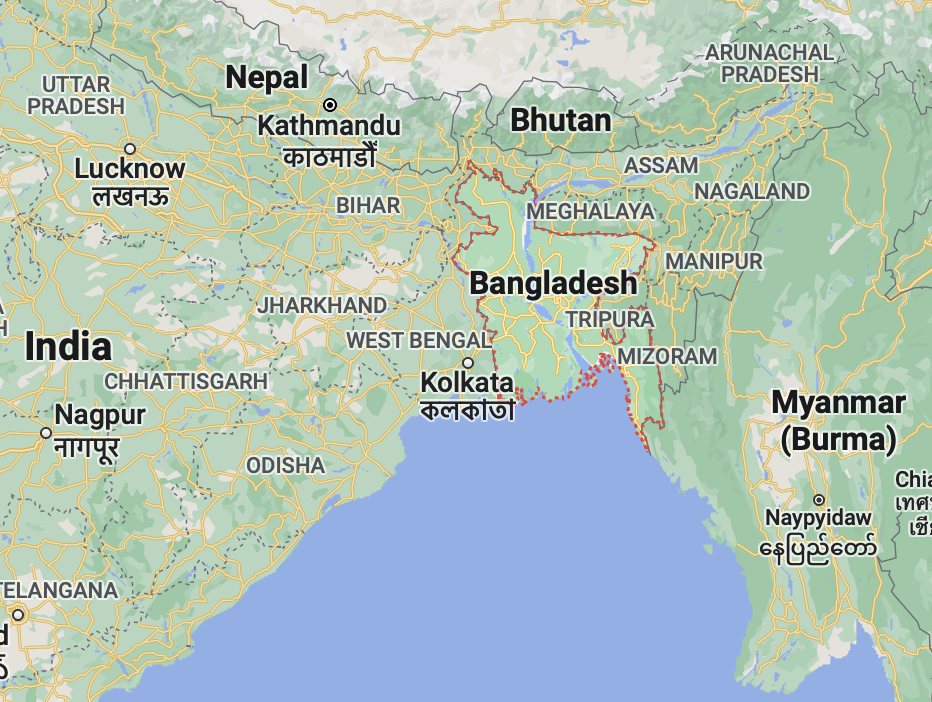 Google Maps
Officials from the country's Institute of Epidemiology Disease Control and Research (IEDCR) are launching an investigation into the case, and an official with the group told the Daily Star about a second Nipah virus death involving a 10-year-old girl from Faridpur who died a few days ago. No other details were available.
So far this year, Bangladesh has reported three Nipah virus cases, all fatal. Bangladesh is known to report sporadic Nipah virus cases, and
IEDCR data
show three cases for 2022.
Earlier this month, the country reported the Nipah virus death of a 35-year-old woman from Rajash who got sick after drinking raw date juice, which can carry contamination from the urine or saliva of fruit bats that carry the virus and feed on the date juice, according to the London-based
Telegraph
. Her death prompted warnings for people to avoid drinking raw date juice.
People can contract Nipah virus from animals through contaminated food or directly from infected people. The disease can be severe, with symptoms that include respiratory problems and encephalitis that lead to coma or death. Considered a pandemic threat with bioterrorism potential, Nipah virus is designated as a high-priority pathogen by the World Health Organization and the Coalition for Epidemic Preparedness Innovations (CEPI).