Dry valley were thrown dead poultry
Publish Date: Fri, 20 Feb 2015 08:03 PM (IST) | Updated Date: Fri, 20 Feb 2015 08:03 PM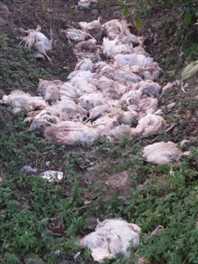 Dry valley were thrown dead poultry
Hardoi, News Correspondent: Fifty-road dry valley on Friday evening a large number of roadside trigger panic lying dead chickens. More importantly, the evening by veterinary officials were not aware of it. Chief Veterinary Officer said they would investigate the matter after saying something.
Hardoi-fifty-two on the road near the roadside dry sewer Somvanshipurwa. The Brook on Friday evening received a large number of dead poultry. The information held on the first inhabitants living in Somvanshipurwa then they reached the spot.The entire crowd of passers-by and villagers caught on the spot.Between swine flu panic anyway so what kind of chickens died speculation. Despite the district veterinary department Jimmedaron agog to see tumult incident did not. When the Chief Veterinary Officer Dr awakening. RM Dixit spoke on the occasion, he said, expressing ignorance veterinarians will be sending out the facts. Asked why, he could be expected to have died of a disease due to chicken, but without the check to clear his inability to express anything.
What do Llto vet: Nklvihin board exams in the district has been the deployment of static magistrates. There are a total of 28 in the district vet. Dr. CVO. Dixit, according to the veterinarians have been made in the board examination Static magistrate. The investigation must be freed from the duty to veterinarians.
Fowl bird flu spread
Swine flu is Brp havoc. Prior to the outbreak of bird flu had spread. Bird flu is transmitted from somewhere chickens. Now people are afraid of the swine flu. On the other hand, found dead chicken. The doctor himself admits that bird flu is transmitted from poultry. He may get sick from eating chicken. Cook meat at high temperatures to avoid the disease is necessary.
http://www.jagran.com/uttar-pradesh/...-12098258.html