machinetranslation
Turkey worried about the emergence of bird flu
January 14, 2011
In the village Doğubeyazıt in eastern Anatolia were found dead about 40 chickens
. With their beaks under their wings and feathers of the dead are seen dark spots. It is assumed that they died due to infection, local media reported.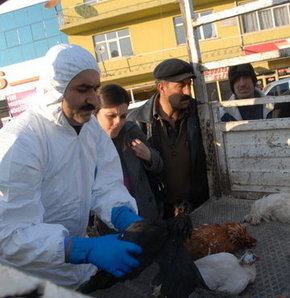 Been sent for testing in a specialized laboratoriya. Sled a week will reach the final results that will allow to conclude about the cause of death of birds.
Already there are concerns about an outbreak of bird flu, stated Monday. In Dogu Beyazat already taken necessary measures. Holding the owner of the dead bird has been sealed and placed in quarantine.
I
n 2006, Doğubeyazıt went infection of bird flu in Turkey
,
which killed three people. Then the village was placed under complete quarantine and destroyed hundreds of birds,
not to spread infection. The epidemic was contained for several days.
dariknews