http://www.publicintegrity.org/2014/...kidney-disease
Sri Lanka bans Monsanto herbicide citing potential link to deadly kidney disease
By Sasha Chavkin
11 hours, 58 minutes ago Updated: 11 hours, 58 minutes ago
Concerned the chemical may be linked to a kidney disease killing agricultural workers, Sri Lanka this week ordered a ban on glyphosate, the active ingredient in Monsanto?s top-selling herbicide Roundup.

The move comes weeks after publication of a new study in Sri Lanka suggesting glyphosate as the leading culprit for the illness. The paper did not provide new scientific evidence, but laid out a detailed theory that the use of glyphosate in areas with heavy metals in the drinking water is causing the chronic kidney disease. Roundup is the top selling herbicide in the world, and Monsanto said the newest study is built upon untested theory rather than hard data.

...

Jayasumana?s article contends that glyphosate, which forms powerful chemical bonds with heavy metals, enters into compounds that persist in drinking water until they break down in people?s kidneys. It is the combination of heavy water and Roundup or other glyphosate products, he argued, that places the population at risk.

?I think we can explain the geographical distribution as well as the time problem with our hypothesis,? Jayasumana said, in reference to the epidemic?s unusual geography and its surge in all of the affected regions during the 1990s.

Jayasumana contends Monsanto failed in its obligations to warn the public of the health risks posed by glyphosate when used in areas with heavy water. Glyphosate was originally patented as a chelating agent ? a substance useful for its ability to form strong chemical bonds with metals ? so Monsanto was aware of these properties, Jayasumana said...
I found this doing my usual search. The story is so popular that it seems to be crashing CPI's server at times: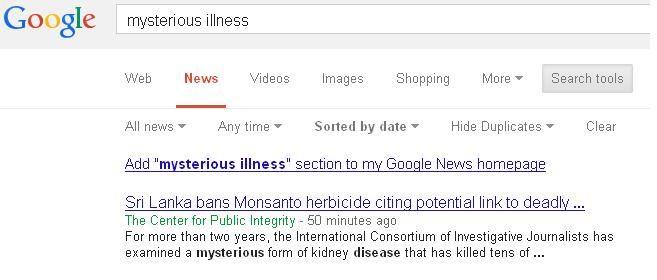 Here's a link to the study from the CPI article.
https://www.documentcloud.org/docume...ate-study.html