Two new local confirmed cases in Manzhouli, railway station has been suspended, recovery time unknown
2020-11-21 19:18 Reporter: Pei Jianfei Editor: Liu Mengjie
Beijing News Express (Reporter Pei Jianfei) Today (November 21), Manzhouli City, Inner Mongolia Autonomous Region added 2 confirmed cases of local new coronary pneumonia. Relevant departments said that the epidemiological investigation and screening work for the close contacts of the two people has been launched, and the relevant situation will be notified in time on the portal website of the Autonomous Region Health Commission. This evening, the reporter learned from the railway department that the Manzhouli station has been suspended and the time to resume operation is unknown.


This afternoon, a netizen posted a station announcement photo taken by netizens. The announcement stated that since November 21, Manzhouli Station will stop handling passenger services and trains will be suspended. Passengers who have already bought tickets need to apply for refunds.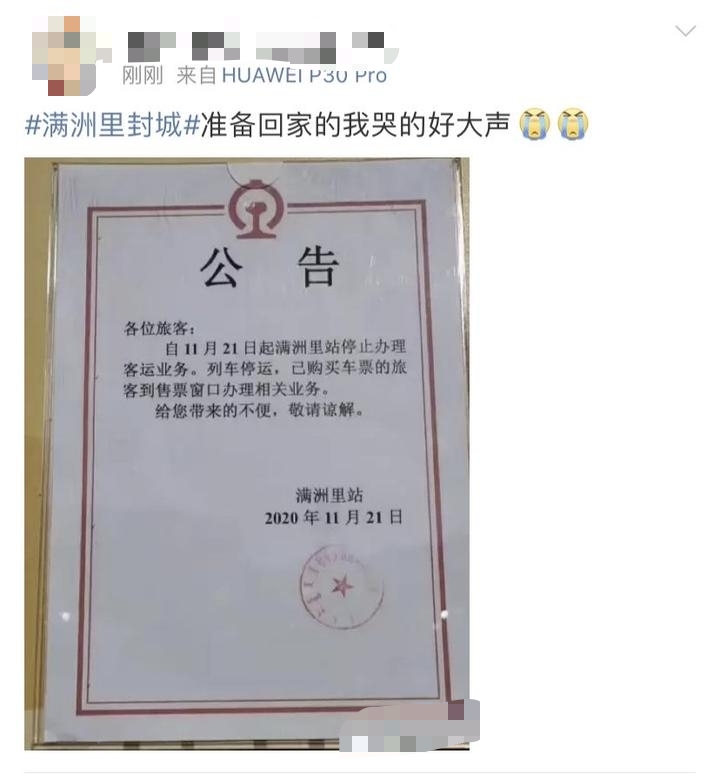 After inquiring through the 12306 platform, the reporter found that from today to November 30, many trains from Manzhouli were out of service or could not be inquired. In response to this, the reporter consulted the customer service center of the Hohhot Railway Bureau. Its staff said that due to the epidemic, some passenger trains involving Manzhouli Station have been suspended.


At 6:40 this evening, the reporter learned from the passenger duty room of Manzhouli Railway Station that the station has indeed been suspended and the recovery time is unknown. "I will definitely not be able to go now for these two days. An announcement has been posted outside the station." The staff said that when the ticket can be purchased, the announcement will be posted again, and the ticket information will be available on the 12306 platform.
https://www.bjnews.com.cn/detail/160595658615729.html