https://www.foxbusiness.com/markets/...data-jp-morgan
Analysis raises questions about coronavirus shutdown's effectiveness
Lockdowns could potentially cause 'more deaths than COVID-19 itself'
By
Jonathan Garber
FOXBusiness
Lockdowns designed to slow the spread of
COVID-19
were justified initially, but likely failed to "alter the course of the pandemic," according to a statistical analysis by JPMorgan Chase that suggests restarting the U.S. economy may not lead to the second wave of infections that health officials fear.
Stay-at-home orders issued by governors across the U.S. over the past two months forced the closure of many businesses and put a halt to most travel, costing nearly 39 million Americans their jobs on at least a temporary basis. The U.S. economy is now witnessing its sharpest economic contraction of the post-World War II era.
"Unlike rigorous testing of potential new drugs, lockdowns were administered with little consideration that they might not only cause economic devastation but potentially more deaths than COVID-19 itself," wrote Marko Kolanovic, a quantitative strategist at the lender's investment bank...
...
But what has happened after reopenings in other parts of the country, such as Florida, indicates that lockdowns might not have been the driving force in curbing infections, JPMorgan's Kolanovic said.
Infection rates continued to decline virtually everywhere once familiar routines were resumed, he noted, which indicates the disease's spread may have been diminished by factors as increased hand-washing and sanitizing, the arrival of warmer weather in the northern hemisphere and the fact that the people most vulnerable to COVID-19 had already contracted it.
Anchor @CNBC @NBCNews / @WSJ alum / @NYCityCenter board member
https://twitter.com/carlquintanilla/...70459450978314
Carl Quintanilla
@carlquintanilla
JPMorgan has a devastating piece arguing that infection rates have declined — not increased — in states where lockdowns have ended, "even after allowing for an appropriate measurement lag." (Kolonavic) (1/x)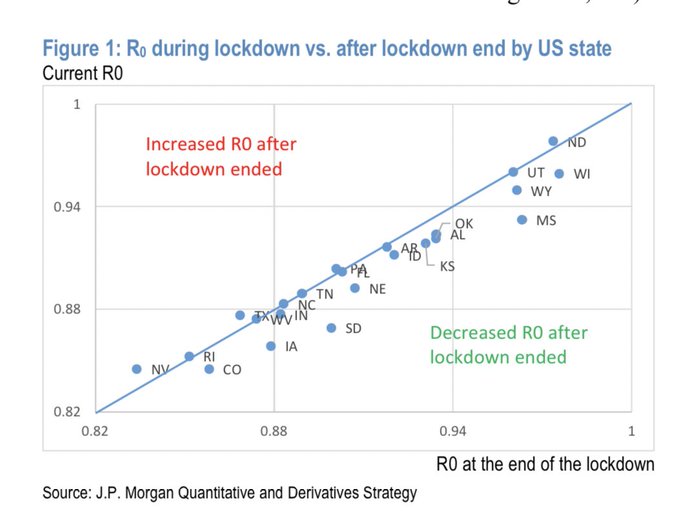 11:11 AM · May 20, 2020·
Twitter for iPhone
4.6K
Retweets
8.5K
Likes
Carl Quintanilla
@carlquintanilla
May 20
Replying to
@carlquintanilla
Same goes for various countries, adds JPM. "This means that the pandemic and COVID-19 likely have its own dynamics unrelated to often inconsistent lockdown measures that were being implemented.." (2/x)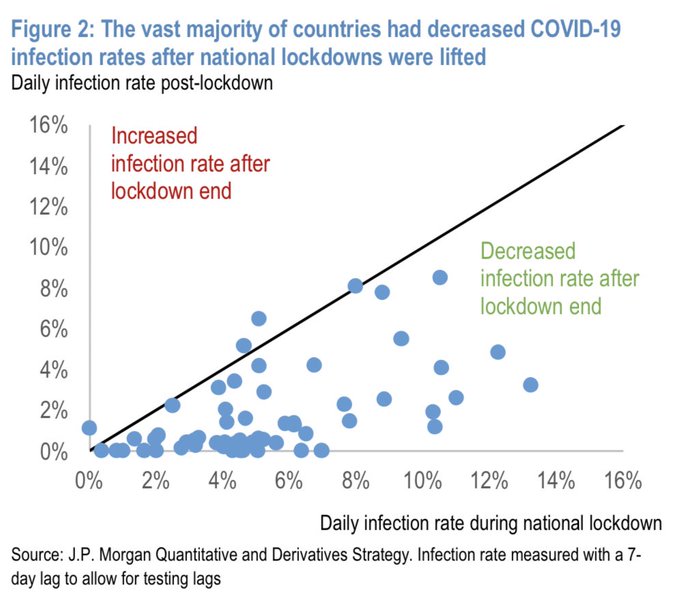 Carl Quintanilla
@carlquintanilla
May 20
More JPM: "In the absence of conclusive data, these lockdowns were justified initially." But "millions of lives were being destroyed .. with little consideration that [lockdowns] might not only cause economic devastation but potentially more deaths than COVID-19 itself.
Questions raised Prof. Biol. @UW. Information flow in biology, society, & science:
https://twitter.com/CT_Bergstrom/sta...91960065810435
Carl T. Bergstrom
@CT_Bergstrom
It would be nice to see methods here. Are they really using a 7 day lag to get the post-lockdown points? Because given incubation periods and the sensitivity-over-time curve, a majority of positives 7 days after lockdown were still infected pre-lockdown.