Source:
http://www.bccdc.ca/about/news-stori...el-coronavirus
Information on novel coronavirus
January 29, 2020 A new coronavirus is causing respiratory infections mostly in Hubei Province, China. BC has a confirmed case of the novel coronavirus; however the risk to British Columbians continues to be low.
Confirmed 2019-nCoV cases
As of January 29, 2020 at 7 AM PST
Globally confirmed cases: 6160 with 132 deaths
Regions of China Total* confirmed cases: 6086 with 132 deathss

Hubei Province (including Wuhan City) confirmed cases: 3554 with 125 deaths
Wuhan City confirmed cases: 1905 with 104 deaths

Elsewhere confirmed cases: 74 with 0 deaths

British Columbia confirmed cases: 1 presumptive confirmed
*Includes Hong Kong special administrative region (SAR), Macau SAR, and Taiwan.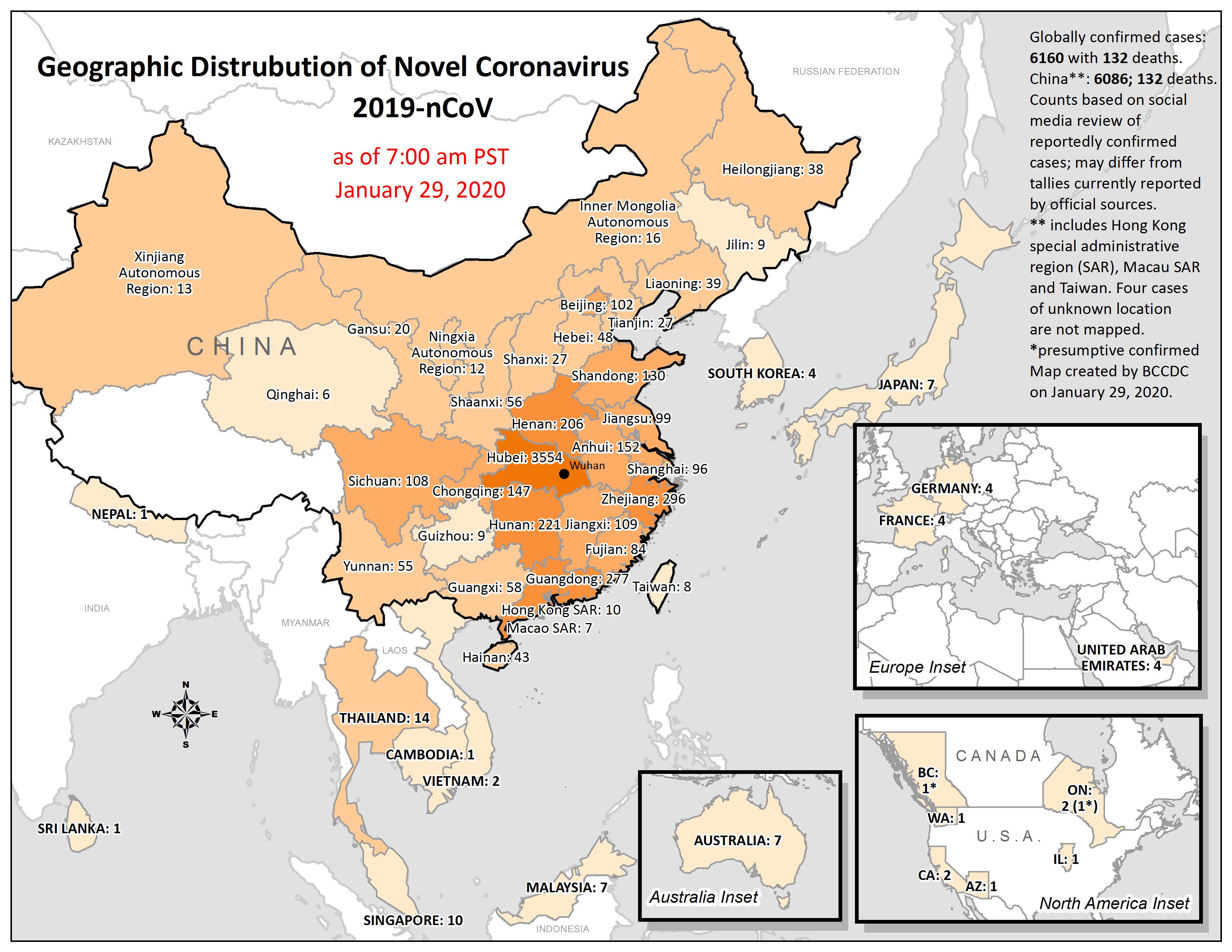 On January 28, health officials in British Columbia
announced
the province's first presumptive confirmed case of novel coronavirus. Canada's first case of novel coronavirus was confirmed in
Ontario on January 25
.
At the current time, the risk to British Columbians and Canadians is considered low. BC Centre for Disease Control (BCCDC) and provincial and federal authorities are monitoring the situation closely.
Respiratory infection caused by novel coronavirus
Illnesses associated with the new coronavirus, named 2019-nCOV, are similar to several respiratory illnesses and include fever, dry cough, sore throat and headache. Most cases are considered mild to moderate with a subset experiencing more severe illness with shortness of breath and difficulty breathing. Deaths have been reported among about two to four per cent of detected cases in China although it is likely that the actual risk of such severe outcomes is lower given milder cases are less likely to be detected.
Cases were initially linked to exposure to live animals at a seafood market in Wuhan City but the substantial increase in cases thereafter is due to human-to-human transmission of the virus. Other respiratory viruses can be spread from a cough or sneeze or from touching something an infected person has touched and then touching your eyes, mouth or nose. The main ways and efficiency of 2019-nCoV spread still require better understanding.
Health authorities in China have taken prevention and control measures to prevent the spread of infection and are continuing to investigate the source of 2019-nCOV. The risk to Canadians is considered low at this time, however, the threat is being taken seriously.
Signs and symptoms
If you have been travelling and you become ill or become ill after you return home, tell your health care provider about recent travel and your symptoms. You should also tell your provider if you had close contact with a sick person or had another high-risk exposure such as direct contact with animals.
Reported signs and symptoms include:
Fever
Coughing
Difficulty breathing
Pneumonia in both lungs.
Information for travellers
The Public Health Agency of Canada has issued a Travel Health Notice for individuals travelling to China to avoid all travel to the province of Hubei, including the cities of Wuhan, Huanggang and Ezhou, due to the imposition of heavy travel restrictions in order to limit the spread of a novel coronavirus. The alert also recommends travellers take usual precautionary measures:
Wash hands regularly
Avoid contact with live animals such as at farms and markets.
Avoid eating raw animals.
Avoid surfaces with animal secretions such as blood and droppings.
Go to Government of Canada for latest
travel alerts
.
Information for travellers returning to or entering Vancouver
The Public Health Agency of Canada hasimplemented measures over the coming weeks to detect and contain the infection. These measures include messaging on arrivals screens at the Toronto, Montreal and Vancouver international airports reminding travelers from Wuhan to inform a border service officer if they are experiencing flu-like symptoms, and an additional health screening question to be added to electronic kiosks.
British Columbians should always tell their health care providers about their recent travel if they become ill after returning to Canada.
Information for health care workers
Health providers should ask patient presenting with respiratory illness about recent travel. To facilitate early detection and containment, clinicians should notify their local medical health officer as soon as possible about patients presenting with:
Fever and acute respiratory illness, with or without pneumonia
Recent travel to Hubei Province (includes Wuhan City), China within 14 days prior to symptom onset
Another potential relevant exposure such a close contact with someone who was ill and had recently travelled to Hubei Province (includes Wuhan City), China.
BCCDC is providing regular updates and information on the situation and detection and containment measures to health care providers including medical health officers, infectious disease specialists, medical microbiologists, emergency department physicians, public health nurses, infection control practitioners, airport authorities and others.
Check the BCCDC bulletins on emerging respiratory viruses for
current information
.
Information on diagnostic testing
The BCCDC Public Health Laboratory (PHL) has developed laboratory guidance for 2019-nCoV diagnostic testing. Such testing requires notification and consultation with the local Medical Health Officer and the BCCDC PHL Medical Microbiologist on-call (604-661-7033).
Check the
laboratory requirements
.
Coronaviruses
Coronaviruses are a large family of viruses. They can cause diseases ranging from the common cold to more severe diseases such as severe acute respiratory syndrome (SARS) and Middle East Respiratory Syndrome (MERS-CoV). Some transmit easily from person to person while others do not have that ability. China is conducting further investigations to better understand where the disease came from, how it is transmitted and the severity of illness it causes in humans.